Unlearning the Rules of the Boys Club
Justin Baldoni unpacks the challenges of living with internalized misogyny and what needs to be done to fight toxic masculinity in BOYS WILL BE HUMAN. He sat down to share why he wrote this book and more for us here on the HarperStacks blog.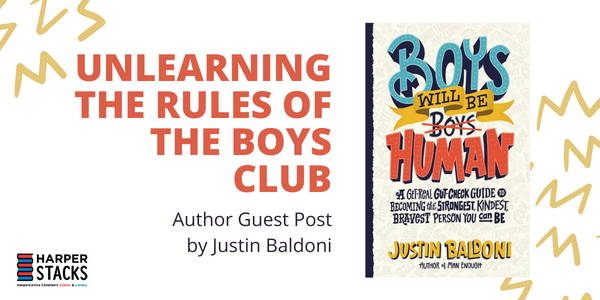 Never show weakness. Always be cool. Know all the answers. Don't talk about your feelings. Be the best. Be an Alpha.
I heard the rules of the "Boys' Club" loud and clear when I was in middle school. I didn't have a choice. While sure, I had an awesome family and a great role model in my dad, the rules had such a strong influence on me that I went through puberty (like most young boys) in a state of confusion and panic. Suddenly my close friendships with other boys became complicated, I couldn't express my emotions out of fear of appearing too sensitive or called (*gasp*) "a girl." Every day I put on an invisible suit of armor that I hoped would hide my vulnerability, but it weighed A TON, and the thing about armor is that while it's made to stop you from feeling the pain of being attacked from the outside, all it really does it keep the pain your feeling INSIDE.
I put on the armor because I really wanted to fit in and be accepted by other boys. In middle school and high school the pressure of fitting in felt like life and death. The only way to avoid being picked on, bullied or excluded was to follow the rules of the bro code--no matter what the cost. So I did whatever I could to fall in line with my friends (and many who weren't my friends) so I could fit in, because getting kicked out of the Boys' Club felt like getting my gender affirming MAN CARD getting taken away. There was nothing worse than feeling like you weren't a boy and being treated like a girl. Until a few years ago, I'd never fully realized the amount of pressure I was under growing up, and I certainly didn't realize all the years of internalized misogyny I had been carrying around with all that armor. As a kid I valued the boys I wanted to like me more than anything else, even if I knew that their behavior towards me, other boys, and girls wasn't okay.
Want to know the worst part about it? As a boy, I never felt more alone. I didn't feel like there was anyone safe to confide in or help me through this confusing time in my life. My body was changing, I was feeling insecure, and I hid that instead of sharing it with someone I trusted. And there certainly weren't any books I could read to learn how to listen to my inner voice and tune out the harmful messages I was getting. Even when I reached adulthood, I still felt isolated and detached. Was I the only man that felt this way? As it turned out,I wasn't alone. Far from it.
That's why I started using my platform to talk about masculinity on a bigger scale. First, I did a TedTalk, which went viral. Then I wrote a book called Man Enough, and it's now a podcast. But the project that is the longest time coming, the one that has my whole heart, is my middle grade book, BOYS WILL BE HUMAN: A Get Real, Gut-Check Guide to Becoming the Strongest, Kindest, Bravest Person You Can Be. It's the book I wish I had when I was 12 and going through puberty and getting erections for the first time; 14 and struggling making friends; 15 and being bullied for being sensitive; and when I was 16 and having sexual experiences that I wasn't emotionally ready for. I often say there's been no handbook for how to be a young boy or a man in this world - so I did my best to write a version of what I think that looks like in 2022. The truth is no one talks to young boys about the things we desperately need to talk about. From body image, to acting like we know everything, to privilege, porn, sex and consent … I really hope this finds the young boys who need it the most
I also hope that when kids read BOYS WILL BE HUMAN they'll be surprised by its level of honesty. I share a lot of stories from my childhood—some funny, embarrassing, and even serious—but it's all in service to building trust, so that boys can think of the book as a good friend or big brother who's always looking out for them and who will always tell them the truth.
I want the book to jumpstart important conversations, too--between boys and their parents and teachers and friends, etc.--about sensitive topics that we tend to want to avoid because they make us uncomfortable. I think one of the best things I've learned through writing BOYS WILL BE HUMAN is that when we take off our armor and talk about our emotions and experiences, even when it makes us uneasy, we feel more in touch with ourselves and connected to the world around us.
My son Maxwell isn't old enough to read this book yet, but I'm so glad it's going to be there for him when he's ready. My biggest wish is that BOYS WILL BE HUMAN will give him—and anyone else who reads it—the tools to be the best human he can be, and a reminder that who they are, as they are…is enough.
It's time we teach and encourage our young boys to become safe spaces for themselves. Because if they can't, this world will never be safe for anyone.
---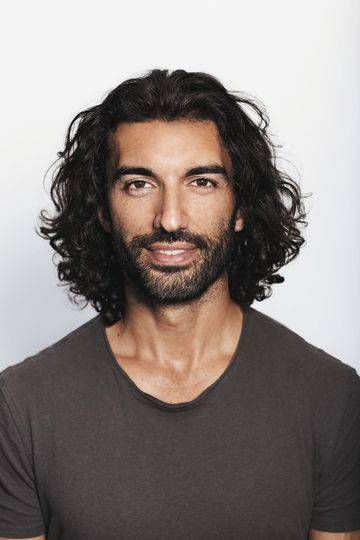 Justin Baldoni is an actor, director, producer, entrepreneur, and changemaker. He is the cofounder of Wayfarer Studios, an independent studio pioneering multi-platform film and television productions that speak to the human spirit. Baldoni is the co-founder of BeLove, the nonprofit arm of Wayfarer Studios. He is also a board member for The Wayfarer Foundation, a nonprofit organization dedicated to transforming the way communities see and respond to people experiencing homelessness. Baldoni is best known for playing Rafael on The CW's award-winning hit show Jane the Virgin. He has spoken about his own journey with masculinity in a viral TED talk, which inspired his book, Man Enough: Undefining My Masculinity, and the Man Enough podcast, now in its second season. Boys Will Be Human: A Get-Real, Gut-Check Guide to Becoming the Strongest, Kindest, Bravest Person You Can Be is his first book for young readers. Baldoni lives in Los Angeles with his wife and two children.
This book isn't about learning the rules of the boys' club, it's about UNLEARNING them. It's a get-real guidebook that will show you how to be:
Brave enough to reveal who you really are
Smart enough to ask questions
Cool enough to feel all your emotions
Confident enough to know your worth
Strong enough to speak your truth
—and much, much more.
Be prepared: This book is raw and surprising. There is no subject off-limits or lies detected. Sometimes things might get a little uncomfortable, but that's an important part of getting to know—and believe in—yourself.
Don't worry, you're not on this journey alone, so let's jump in together to become the smartest, bravest, strongest HUMANS we can be!
Praise for Boys Will Be Human
"[Baldoni] positions himself as a flawed but funny and earnest student of the nature of masculinity… Helpful advice and humorous myth-busting; will draw readers in and encourage reflection."
  — Kirkus Reviews
"Baldoni is incredibly honest…[His] book is a worthy addition to help boys become beautiful humans."
  — School Library Journal
---