Spooky Season is Here with A Spoonful of Frogs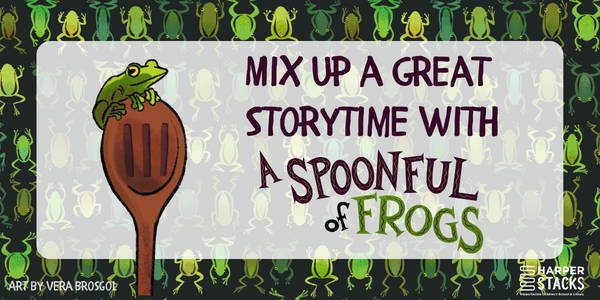 Autumn has arrived, and along with it comes crisp air, pumpkin spice flavored everything, and a desire to read every slightly spooky book in sight! A Spoonful of Frogs, written by library staffer Casey Lyall and illustrated by Caldecott Honoree Vera Brosgol, is sure to be a new classic for your fall storytimes. Read below to learn more about the book and its creators and to get some kid-friendly storytime activities, too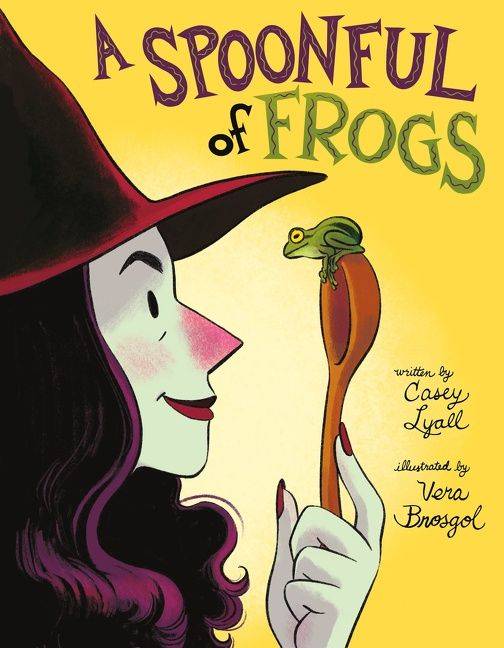 A witch's favorite treat is frog soup. Luckily, it's healthy and easy to make. To give it that extra kick and a pop of color, the key ingredient is a spoonful of frogs. But how do you keep the frogs on the spoon? They hop, they leap, they hide . . . and they escape. What is a poor witch to do?
Teeming with laugher and hijinks, A Spoonful of Frogs is pure fun from beginning to end. A must-have for young readers, parents, witches, frog-lovers, and aspiring chefs.
"An all-seasons recipe for storytime success as readers will root for the frazzled witch to work her way out of a hilarious pickle."
  — Booklist (starred review)
---
Ages 2+; groups of all sizes
This is a simple twist on a classic game. Split the children up into two to four teams. Give each team a wooden kitchen spoon and a stuffed frog (or bean bag to pretend with) and have the child walk to the other side of the room and back to their team without letting the frog hop off their spoon before passing it along to their teammate.
For older children, use cones or other items to create an obstacle course to navigate while balancing the frog.
Ages 4+; group of under 20 children
Start with the children sitting in a circle. Have each child use their hands to "stir" while chanting "Stew, stew, let's brew a stew!"
Each child gets to add an imaginary ingredient into the stew. After the first child names their ingredient, have everyone repeat the chant. The second child then repeats the first child's ingredient and adds their own. This continues until the last child has repeated all of the ingredients so far and added one last thing. Now that the stew is done, pretend to take a taste. Often ingredients aren't very yummy, like stinky socks, and the kids enjoy being silly while pretending to eat this unique stew!
For an added academic challenge, have the ingredients all start with a certain letter or sound.
---
More Praise for A SPOONFUL OF FROGS
"Lyall's spare, mostly restrained text uses ear-pleasing, catch-phrase-worthy repetition and variation ("Put. The FROGS. On. The SPOON") while Brosgol's retro-chic, increasingly frazzled digital illustrations are a chef's-kiss of comic timing."
  — Horn Book (starred review)
"The cutesy hidden background details like "lizard oil," the frantic frog chase itself, and the unexpected frog substitute are surefire ingredients for a giggly storytime."
  — Bulletin of the Center for Children's Books (starred review)
"Ideal for fans of cooking shows—or any kid who gets the giggles from seeing a flustered adult trying to hold it together."
  — Publishers Weekly
---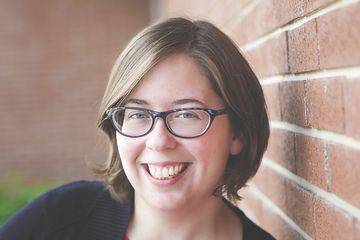 Casey Lyall is the author the middle grade series, Howard Wallace, P.I., A SPOONFUL OF FROGS, and the upcoming GNOME IS WHERE YOUR HEART IS (2023). When she's not writing, reading, or baking, she works at her local library in southern Ontario.
---
Vera Brosgol was born in Moscow, Russia, in 1984 and moved to the United States when she was five. Her first graphic novel, Anya's Ghost, was published in 2011 by First Second. Her picture book Leave Me Alone! was a 2017 Caldecott Honor book. She was a storyboard artist at Laika Inc. for ten years, working on films including Coraline and Kubo and the Two Strings. She lives in Portland, Oregon.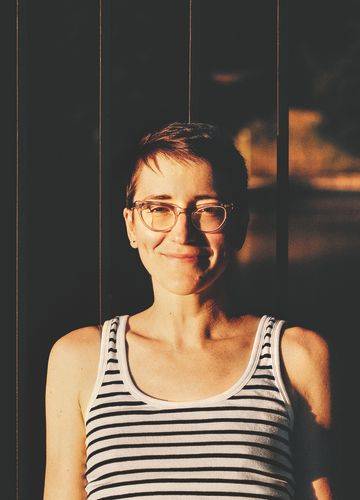 ---