Author Guest Post: Braiding My Past and Present in Native Children's Literature by Dawn Quigley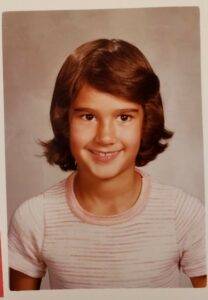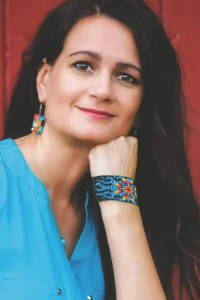 Promoting respectful Native American representation in literature is where my fire lies now; yet this flame was nearly extinguished by the deluge of the wave of my first encounter with this literature when I was a child. I was mocked and humiliated for my love of Native American literature, and as I interpreted it then, for being a Native person.
The only time that I was able to attend camp, to alleviate the feelings of being homesick, I brought my favorite book. I don't recall the name, but it was a winter count tale, which is a traditional Lakota pictographic retelling of a battle or hunting story. My mother and I read this book over and over, yet I still found something new each time I read it—a phrase, a drawing, a lesson. After returning from camp dinner one night, I opened the cabin door to find my bag had been riffled through, and on the bunk were my cabinmates: one girl held my book and was, in a melodramatic voice, reading my book in a stereotypical "Injun talk" voice. My bunkmates were holding their sides in laughter. I made excuses for why I had brought the book and hid it away for the rest of camp. After I returned home from, I gave my treasured book away and hid my Native identity for many of my school years.
If all students, both Native and non-Native, begin to have a deep respect for Native-authored texts, then no future young Ojibwe girl like myself will have to deny her own identity after being ridiculed for loving a book that reflects herself. Dr. Rudine Sims Bishop began many years ago to speak about literature being a way to offer a window, mirror, and sliding glass door to children. And so, this is a charge for all of us!
The full aspect of Native history, language, and culture must be taught: loss of land, loss of children through boarding schools, and loss of clean water due to oil pipelines. Yet now I want to focus on Native joy.
My inspiration for writing the Jo Jo Makoons chapter book series was born from a rejection. I had a picture book rejected in the spring of 2019 (and rightly so! It wasn't ready to go on submission). Then, Muscogee author and educator Cynthia Leitich Smith said, "I wonder if you might consider writing a young chapter book?" I thought: Well, I can't write a chapter book because I've never written a chapter book before.
But then, a spunky little Ojibwe girl began running around in my mind making me laugh with her antics! And the Jo Jo Makoons chapter books series was born. All because of a suggestion. 😊 Jo Jo is a team effort.
Writing about contemporary Ojibwe kids is really important to me. I want to let all readers, teachers, librarians, and families know that, indeed, we Natives still exist. It seems so unbelievable that the "vanishing Native" story is so prevalent throughout the U.S. Publishing the first chapter book series based on a Native character is so amazing! I wanted to write a fun, silly book that all readers will enjoy. Oh, and the main character just happens to be Ojibwe. I describe the series as "Junie B. Jones...on the rez."
I hope children everywhere, especially Native readers, fall in love with Jo Jo (and her cat, Mimi!). The world, especially now, is so hard for our young people. I want them to laugh, to be able to pause and enjoy the fun world of Jo Jo. Also, I love that Jo Jo sees the world in a slightly unique way, which many times is the basis for laughs. We all need more laughter in our lives.
It's been such a joy to hear the reactions of the early readers. Of course my own kids don't think I'm funny at all (apparently, I'm not supposed to laugh at my own jokes?).
A bit of a challenge was getting into the mindset of a seven-year-old. I needed to be sure to use the vocabulary of a first grader. Sometimes thinking of jokes and funny situations was a task, but I'm a big believer in the idea that if something makes me laugh, maybe others will too! I adore our Native humor. Right now, I am signed for three books in the series. BUT I have so many more ideas for Jo Jo. I taught for eighteen years in grades K-12, and have my own kids, so I want to write child-centered stories that young readers can relate to. If you love Jo Jo, please let the world know!
And so, to end, I want you to know that each time I pass a used bookstore I look for my "winter counts" book, believing that it will return to me, swirl back, so that, in what some Native people believe, I may complete the circle and return once again to my first beloved Native book. First Nation scholar Margaret Kovach reminds us that for Native peoples, "Work begins, and ends, with story."
Is there any thing else you'd like to add?
A big shout-out to the book community, which continues to support and cheer each other on! Writing with a community is an incredible gift.
I can't wait to meet all of the amazing educators and librarians (and of COURSE, children and families who are reading my books) in the future!
---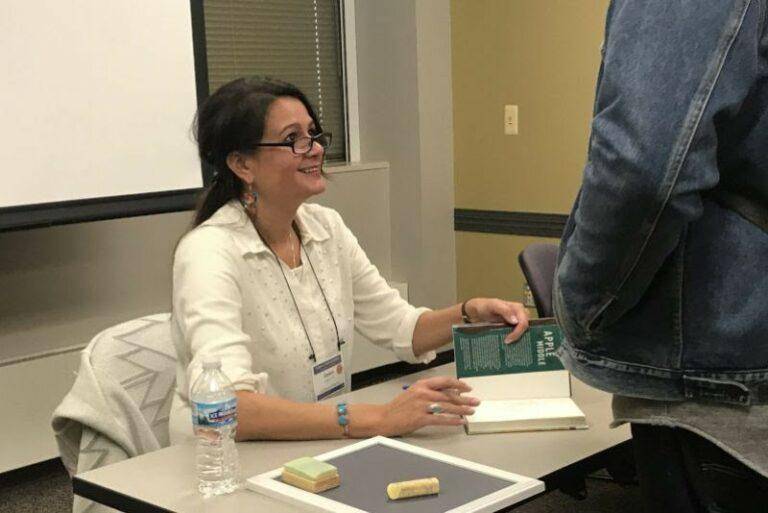 Dawn Quigley is a citizen of the Turtle Mountain Band of Ojibwe, North Dakota. Her debut YA novel, Apple in the Middle, was awarded an American Indian Youth Literature Honor. She is a PhD, education university faculty member, and a former K–12 reading and English teacher, as well as Indian Education program codirector. You can find her online at www.dawnquigley.com. She lives in Minnesota.
---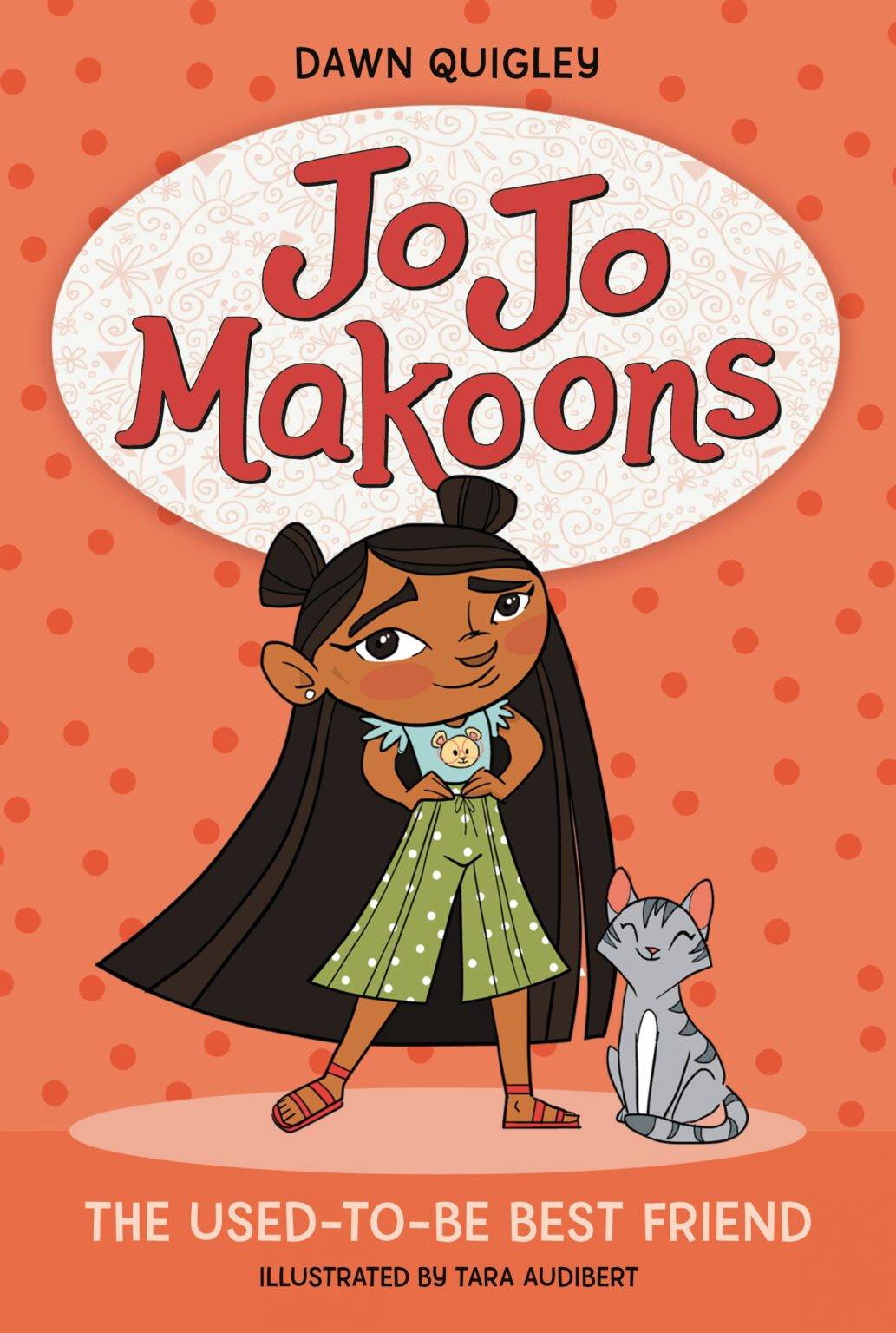 Hello/Boozhoo—meet Jo Jo Makoons! Full of pride, joy, and plenty of humor, this first book in an all-new chapter book series by Dawn Quigley celebrates a spunky young Ojibwe girl who loves who she is.
Jo Jo Makoons Azure is a spirited seven-year-old who moves through the world a little differently than anyone else on her Ojibwe reservation. It always seems like her mom, her kokum (grandma), and her teacher have a lot to learn—about how good Jo Jo is at cleaning up, what makes a good rhyme, and what it means to be friendly.
Even though Jo Jo loves her #1 best friend Mimi (who is a cat), she's worried that she needs to figure out how to make more friends. Because Fern, her best friend at school, may not want to be friends anymore…
Praise for JO JO MAKOONS: THE USED-TO-BE BEST FRIEND
"Young readers will revel in the humor this chapter book offers: the wordplay, the nicknames, and Jo Jo's irrepressible narrative voice. A joyful book about growing up Native in a loving community—not to be missed."  
— Kirkus Reviews (starred review)
"In a winning, straightforward voice, Quigley adeptly creates strong classroom scenes that convey an inclusive student body's realistic dynamic and an endearing, assured seven-year-old protagonist who appreciates her cultural identity."  
— Publishers Weekly (starred review)
"Jo Jo's magnetic personality and liberal humor should endear her immediately to readers struggling to sort out their own worlds–she is sure to be young readers' new 'book best friend.'"  
— Shelf Awareness (starred review)
"In eight brief yet eventful chapters, we follow this seven-year-old Everygirl through a relatable and entertaining series of misadventures and misunderstandings. Through it all, the first-person narrative is consistently engaging, with just the right touch of primary-grade silliness to balance out Jo Jo's fears about friendship. Audibert's cartoony illustrations add humorous layers to this exemplary transitional reader."  
— Horn Book (starred review)
"A sweet, slice-of-life series debut. Readers will love Jo Jo and want to be her friend."  
— School Library Journal (starred review)
---