Celebrate Black Voices All Year Long
---
What books are you sharing with young readers this Black History Month? We encourage you to Shake Up Your Shelves by celebrating the Black history makers of today and shining a spotlight on Black creators for all ages and genres. And let's not stop at February – representation matters ALWAYS, not just one month a year! Celebrate Black voices all year long with these new and noteworthy titles from HarperCollins Children's Books.
---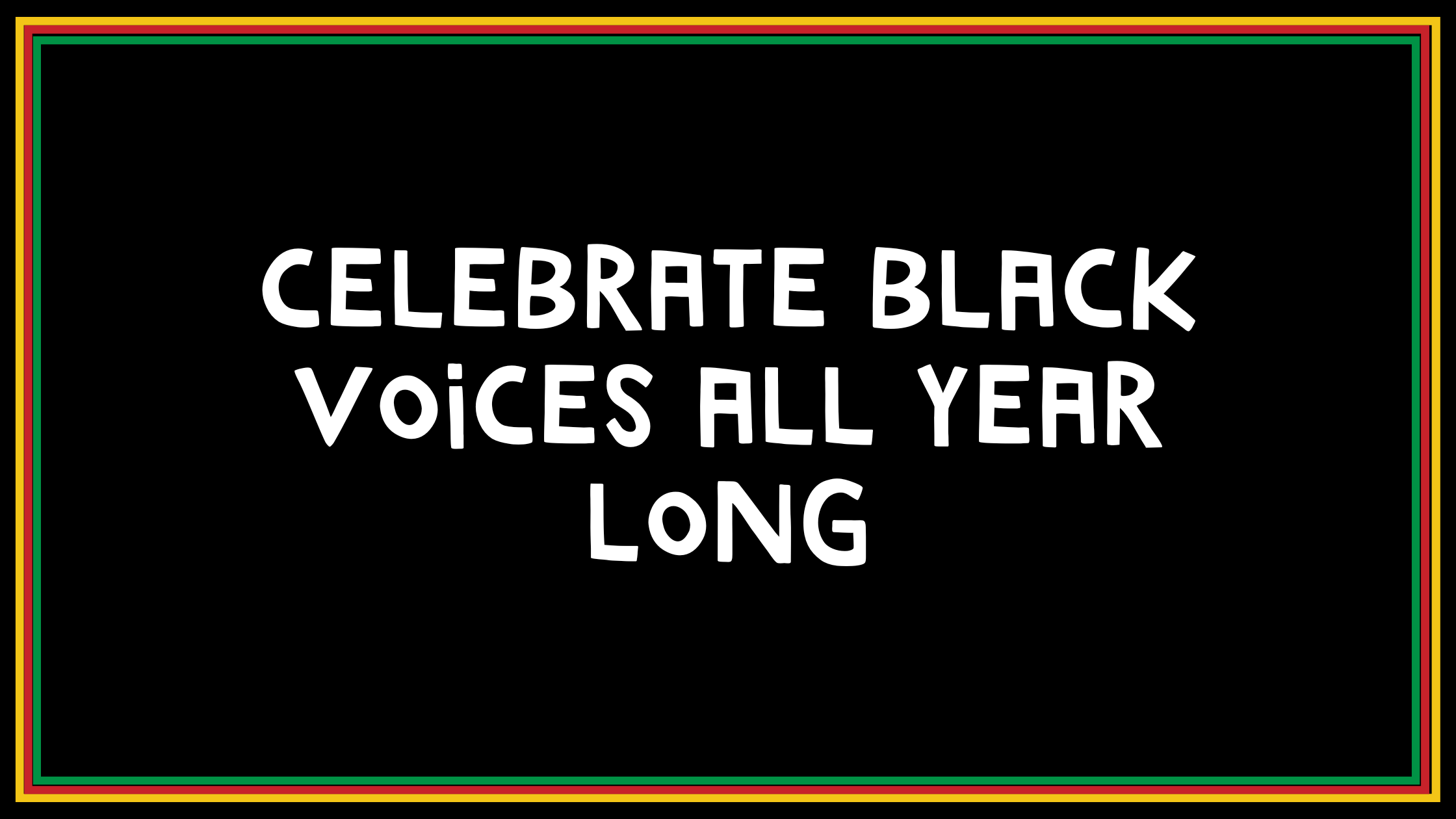 ---
---
THAT FLAG
Tameka Fryer Brown
illustrated by Nikkolas Smith
A poignant picture book from beloved author Tameka Fryer Brown and #1 New York Times bestselling illustrator Nikkolas Smith (The 1619 Project: Born on the Water) that challenges the meaning behind the still-waving Confederate flag through the friendship of two young girls who live across the street from one another.
---
ROCK ROSETTA ROCK ROLL ROSETTA ROLL
Tonya Bolden
illustrated by R. Gregory Christie

Award-winning author Tonya Bolden and acclaimed illustrator R. Gregory Christie deliver this inspiring nonfiction picture book biography about the life, career, and impact of 20th century blues and gospel singer Sister Rosetta Tharpe who was a trailblazer for rock-and-roll.
---
THE MAKING OF BUTTERFLIES
Zora Neale Hurston and Ibram X. Kendi
illustrated by Kah Yangni

A board book reimagination of a story featured in beloved African American folklorist Zora Neale Hurston's Mules & Men. Adapted by National Book Award winner Ibram X. Kendi, The Making of Butterflies follows the Creator as they make butterflies to keep the flowers company. Perfect to pair alongside other Hurston works or lessons on folklore.


---
HEY OTTER! HEY BEAVER!
Brian Pinkney

Best friends Otter and Beaver both love their stream—but for two completely different reasons! While Otter loves to play in the fast water, Beaver works hard to build a dam. A great story-time title, Hey Otter! Hey Beaver! is a funny and action-packed book about competition, cooperation, and friendship by the award-winning and bestselling Brian Pinkney.
---
TO BOLDLY GO
Angela Dalton
illustrated by Laruen Semmer

From the author of Ruby's Reunion Day Dinner Angela Dalton, and NYT-bestselling illustrator Lauren Semmer comes To Boldly Go, a vibrant, empowering picture book biography of Nichelle Nichols, who as Lieutenant Uhura on Star Trek, was the first to boldly go where no Black actor had gone before.
---
NIC BLAKE AND THE REMARKABLES: THE MANIFESTOR PROPHECY
Angie Thomas

Internationally bestselling superstar author Angie Thomas makes her middle-grade debut with the launch of an inventive, hilarious and suspenseful new contemporary fantasy trilogy inspired by African American history and folklore. If your students love the AMARI series or anything by Rick Riordan, this is definitely their next read!
---
SCHOOL TRIP
Jerry Craft

Newbery Award-winning graphic novelist Jerry Craft sends Jordan, Drew, and a small group of students from Riverdale Academy on a school trip to Paris, in this poignant and funny full-color, contemporary graphic novel about friendship, growing up, uncomfortable but necessary conversations, and navigating the world. A companion to New Kid and Class Act!
---
ON AIR WITH ZOE WASHINGTON
Janae Marks

Bestselling author Janae Marks returns with a bighearted and empowering sequel to the critically acclaimed From the Desk of Zoe Washington, following Zoe and her recently exonerated father as they build their new relationship and work to open their own restaurant together.
---
---
PLAYBOOK
Kwame Alexander
Illustrated with photographs by Thai Neave

The Playbook is intended to provide inspiration on the court of life. Each rule contains wisdom from inspiring athletes and role models such as Nelson Mandela, Serena Williams, LeBron James, Carli Lloyd, Steph Curry, and Michelle Obama. Newbery-Medalist Kwame Alexander also shares his own stories of overcoming obstacles and winning games in this motivational and inspirational book for readers of any age and for anyone needing a little bit of encouragement.
---
FIGURE IT OUT HENRI WELDON
Tanita S. Davis

Tanita S. Davis, author of Partly Cloudy and Serena Says, has written another funny, warm story featuring middle school and family life—all about the complex calculations it takes for everyone to balance the equations of their lives and what it takes to be part of a team while handling a learning disability.
---
---

PLAY THE GAME
Charlene Allen

Debut author Charlene Allen delivers a captivating and electric YA contemporary mystery about a teen boy trying to keep his best friend's legacy alive through a video game while getting swept up in a murder investigation that points to his other best friend as the prime suspect.
---