Coming Out On Your Own Terms: Author Guest Post by Sonora Reyes
---
I originally wrote The Lesbiana's Guide to Catholic School because I wanted to send queer teens a message I so desperately needed when I was in their shoes: Being in the closet does not make you a liar. It doesn't mean you're not authentic. It doesn't mean you aren't trustworthy. Being in the closet is simply a safety net that we can all choose to utilize if we need it, and there is nothing wrong with needing it.
---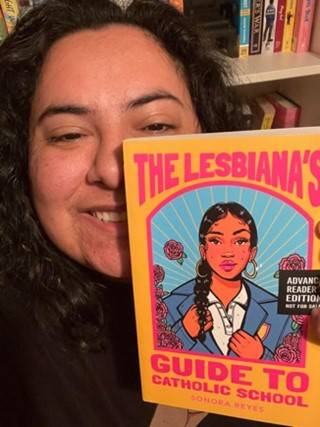 I get very frustrated with the sentiment that closeted people are "living a lie," because some of us have no other choice. It's never living a lie—it's surviving. No one is entitled to know our sexuality or gender identity without our consent. And that is really what this is all about: Consent.
Being closeted already comes with enough challenges as it is, so I don't see any reason why guilt should be added to that list. For Yamilet, the main character in The Lesbiana's Guide to Catholic School, once she is able to get rid of that guilt, she's able to process what she needs to do in order to be fully ready to come out, and that makes all the difference.
---
In writing Yamilet's story, I wanted to write about someone who gets a second chance. Yamilet has the opportunity to choose to go back into the closet when she switches to a Catholic school, while she needed it. Then, she has the opportunity come out when she knows she's absolutely ready. It's on her own timeline and on her own terms.
When I was in high school, I came out at the complete wrong moment because I felt pressured to "be honest." I was at a church camp, and was made to feel emotionally close to all my peers who were there with me because of our shared experience at the camp. Everyone was being vulnerable with each other and trusting each other with their secrets, so I felt pressure to share mine.
---
In hindsight, coming out a church camp doesn't seem like a great idea, but at the time I was consumed by guilt and shame. I thought if I didn't tell everyone I was queer right then and there, that they'd never forgive me for lying to them. So, I told them the truth.
And I wish I hadn't. I wish I'd waited until I was truly ready. I wish I'd waited until I really trusted someone and had some kind of support behind me. This isn't to say I wish I never came out. I am out and proud now, and I have no regrets. However, I wanted to explore what things would have been like if I had gotten to come out on my own terms, so I did that by writing The Lesbiana's Guide to Catholic School. Yami takes her time with coming out. She saves up money in case her mom isn't supportive, and she needs to support herself. She waits until she fully trusts her friends. And, most importantly, she waits until she's ready. She doesn't need to have a reason for not being ready, but she knows when she is.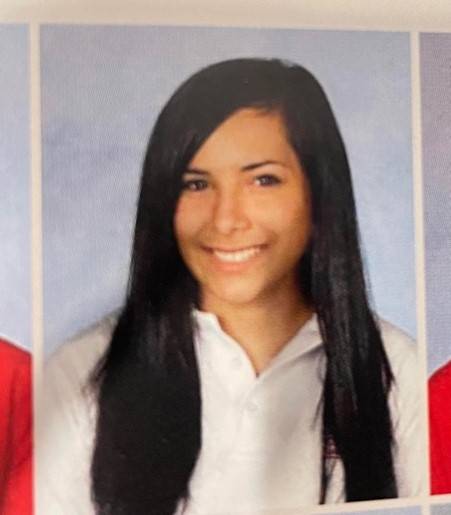 ---
Giving myself the freedom to write a character who gets to come out when they're ready was exactly the catharsis I needed.
Whether you're twelve or eighteen or twenty-five or sixty, it's never too late to come out. So take the time you need. The community will be here to embrace you whenever you're ready.
---
---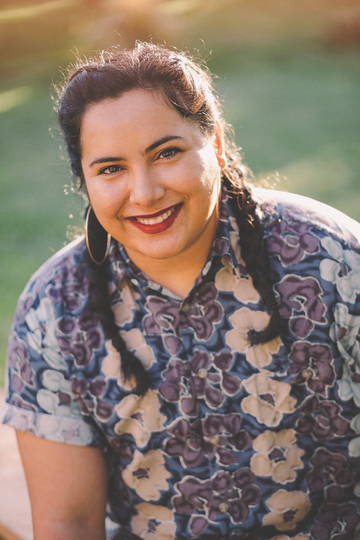 Sonora Reyes is a queer second-generation immigrant who attended a Catholic high school. They write fiction full of queer and Latinx characters in a variety of genres. Sonora is also the creator and host of #QPOCChat, a monthly community-building Twitter chat for queer writers of color. They currently live in Arizona, in a multigenerational family home with a small pack of dogs who run the place. You can visit them online at www.sonorareyes.com.
---
---
Sixteen-year-old Yamilet Flores prefers to be known for her killer eyeliner, not for being one of the only Mexican kids at her new, mostly white, very rich Catholic school. But at least here no one knows she's gay, and Yami intends to keep it that way.
After being outed by her crush and ex-best friend before transferring to Slayton Catholic, Yami has new priorities: keep her brother out of trouble, make her mom proud, and, most importantly, don't fall in love. Granted, she's never been great at any of those things, but that's a problem for Future Yami.
The thing is, it's hard to fake being straight when Bo, the only openly queer girl at school, is so annoyingly perfect. And smart. And talented. And cute. So cute. Either way, Yami isn't going to make the same mistake again. If word got back to her mom, she could face a lot worse than rejection. So she'll have to start asking, WWSGD: What would a straight girl do?
---
Praise for The Lesbiana's Guide to Catholic School
---
"Reyes's hopeful debut excels in its honest depiction of family dynamics, highlighting Yami's sense of responsibility for Cesar and her loving but tense relationship with her mother. As the narrative vulnerably tackles difficult subjects such as intolerant religious institutions and living with mental illness, Yami's sardonic voice adds levity and heart."
  — Publishers Weekly
"Yami's first-person narration is compelling, as she acknowledges her own flaws freely and saves her best opinions for everyone else. The slow realization that she is also worth admiration and even love is all the more satisfying for the work taken to get there… Reyes doesn't dismiss harsher realities, but rather tempers them with a steady drumbeat that life does not have to be anywhere near perfect to still be deliriously joyful a lot of the time."
  — Bulletin of the Center for Children's Books
"The portrayal of found family and the threads of love and acceptance woven into this story make it a satisfying read with a hopeful ending….A textured and gratifying novel."
  — Kirkus Reviews
"Debut author Reyes does not shy away from serious issues that teenagers face, approaching them with the utmost respect…. Despite [some weightier themes], Yami learns to find positivity in her life through her family's and friends' encouragement to just be honest. Readers will applaud both Yami's and Caesar's growth and bravery."
  — Booklist
"Deeply moving, laugh-out-loud funny, and swoony, Reyes packs it all in, in this powerful coming-of-age story about unapologetically loving ourselves—and others."
  — J.Elle, New York Times bestselling author of Wings of Ebony
"A bold debut that invites us into a world of cultural specificity and queer love through the voice of a heroine who is impossible to resist. I'm so thrilled for readers to go on this uniquely hilarious and deeply moving journey of self-acceptance."
  — Abdi Nazemian, author of Stonewall Honor book Like a Love Story
"With off the charts heart and humor, The Lesbiana's Guide to Catholic School is an immediate favorite. Sonora's voice is one to watch!"
  — Julie Murphy, #1 New York Times bestselling author of Dumplin'
---