Creators in Conversation: Michelle Sterling and Sarah Gonzales
Maribel's Year is a goregous new picture book about a Fillpina girl in America experiencing the four seasons for the first time while she thinks about her papa, who is miles away in the Philippines. Author Michelle Sterling sat down with illustrator Sarah Gonzales to talk about their inspiration and the book creation process.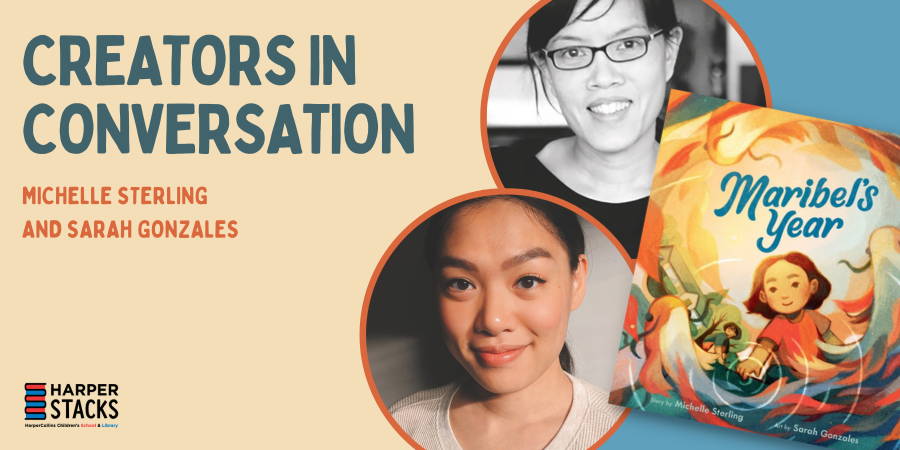 Michelle: Sarah, I'm curious to know — what were your first thoughts after reading the manuscript for Maribel's Year?
Sarah: I immediately fell in love! I was so honoured to illustrate a story I felt so connected with. The words took me to my childhood and made me reflect on the meaning of home.
I was born in Saudi Arabia where my parents met as expats. And then when I was barely one-year-old, my family immigrated from the Philippines to Canada. Although I never really got the chance to grow up in Riyadh or the Philippines, I understood Maribel and her search for home through family, friends and seasons. I reflected on how home can be a complex blend of where you came from and where you are now.
There was also a period of time when my dad was away in Calgary for work, while my mom would be on her own to take care of me and my siblings in Edmonton. So I really related to Maribel when she would miss her papa.
After reading the manuscript my imagination was swirling with ideas! I loved how lyrical and layered your writing was, Michelle. Walk me through your ideation process for Maribel's Year. Do you have any memories that inspired some of your favourite moments?
Michelle: Thank you so much for your kind words, Sarah! I can't tell you how much I love how the art turned out in Maribel's Year. I've always loved seasonal books. Back in 2019 when I was exploring possibilities for my next project, an idea came to me about writing a seasonal book from a different perspective — that of a Filipina immigrant experiencing four seasons for the first time.
My parents immigrated to the US and I was born and raised in California. As a daughter of immigrants, I definitely drew on some childhood memories to build Maribel's experiences. My mother's side is from Ilocos Sur, a region in the northern part of the Philippines, and the dish that appears in April's spread, pinakbet, hails from that region. One of the houses we lived in was on a hill just like Maribel's in May's spread. Papa's old bossa nova records in July are mine! I discovered bossa nova in college and fell in love with the genre. Music played a big part in writing this manuscript. While working on this project, I listened to a lot of Beach Boys and Beatles and other songs I remember my parents listening to, in order to bring myself back to those childhood years.
I'd love to hear about what inspired your illustrations in Maribel's Year, and how you got from blank page to finished art.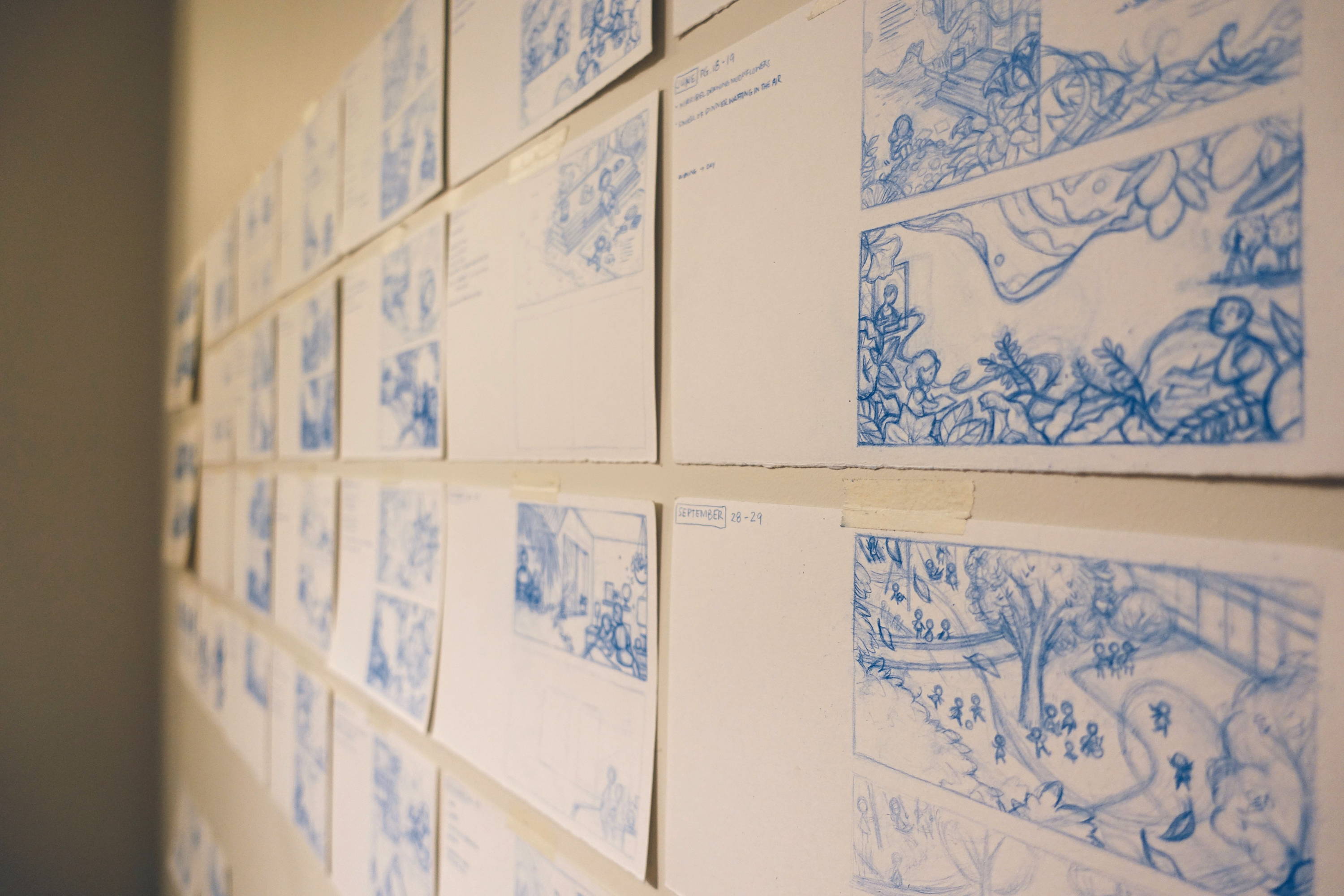 Sarah: Your memories warm my heart. Thank you for sharing! This was my first time illustrating a picture book and it was a fun challenge.
Overall I wanted the moments to feel like they flowed into each other like the changing seasons. The biggest inspiration came from my own childhood experiences growing up in Canada and the memories of every season. Although, it is a lot of winter and snow in Alberta, haha! Maribel's home is modeled after the first house my parents bought. There are a couple objects mom and dad packed that appear in some of the spreads — the wooden carabao figurine and the pink manual sharpener in Maribel's bedroom. I still use that very sharpener and my dad would say, "That sharpener is older than you."
As I reflected on my memories, I wrote down ideas and gathered inspiration. From there I started sketching thumbnails and moved onto my digital process of applying colours and developing details. When the render was close to final, I printed the illustration with my home printer and I drew over the lines and details with blue pencil and tracing paper. To finalize, I scanned those layers and layered them back into the illustration.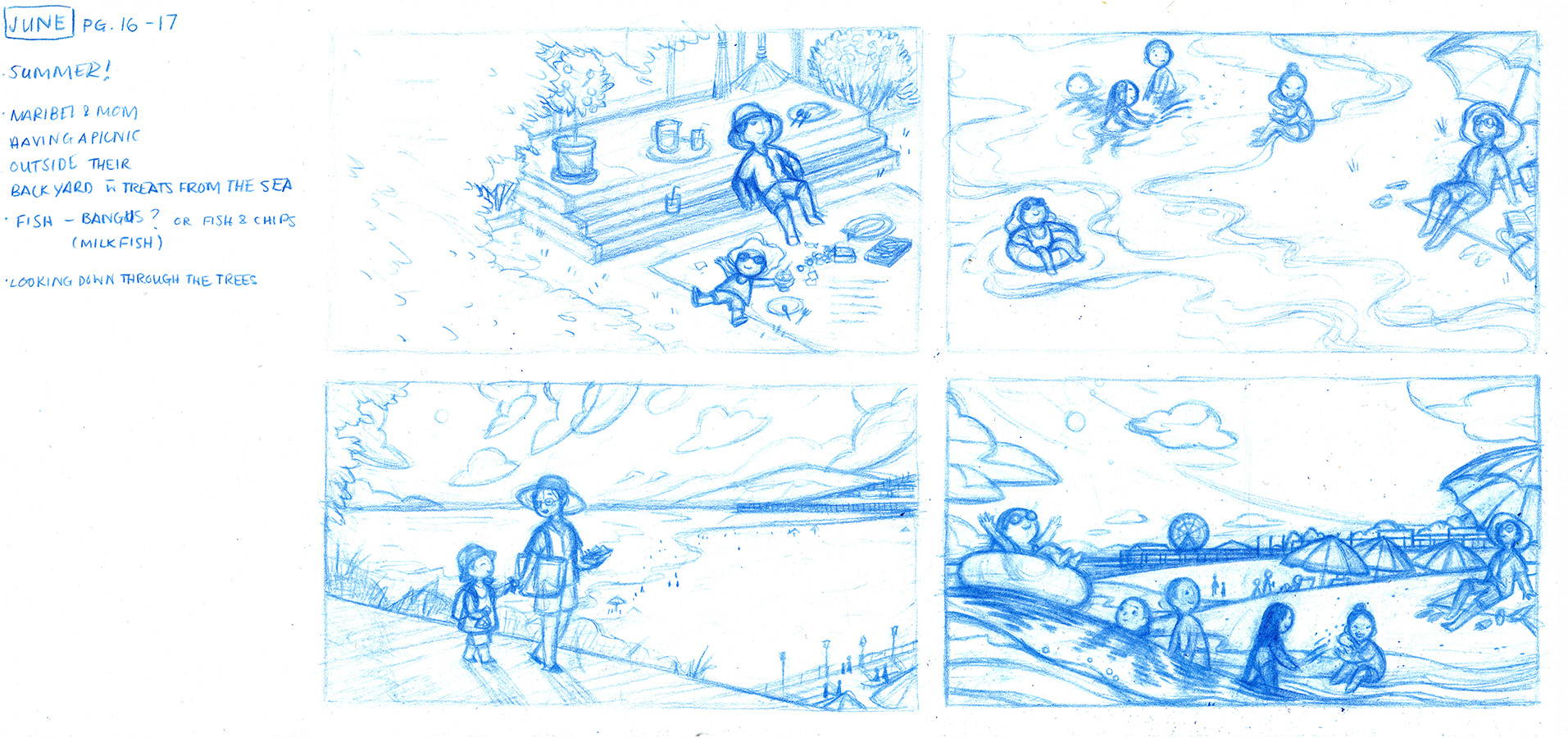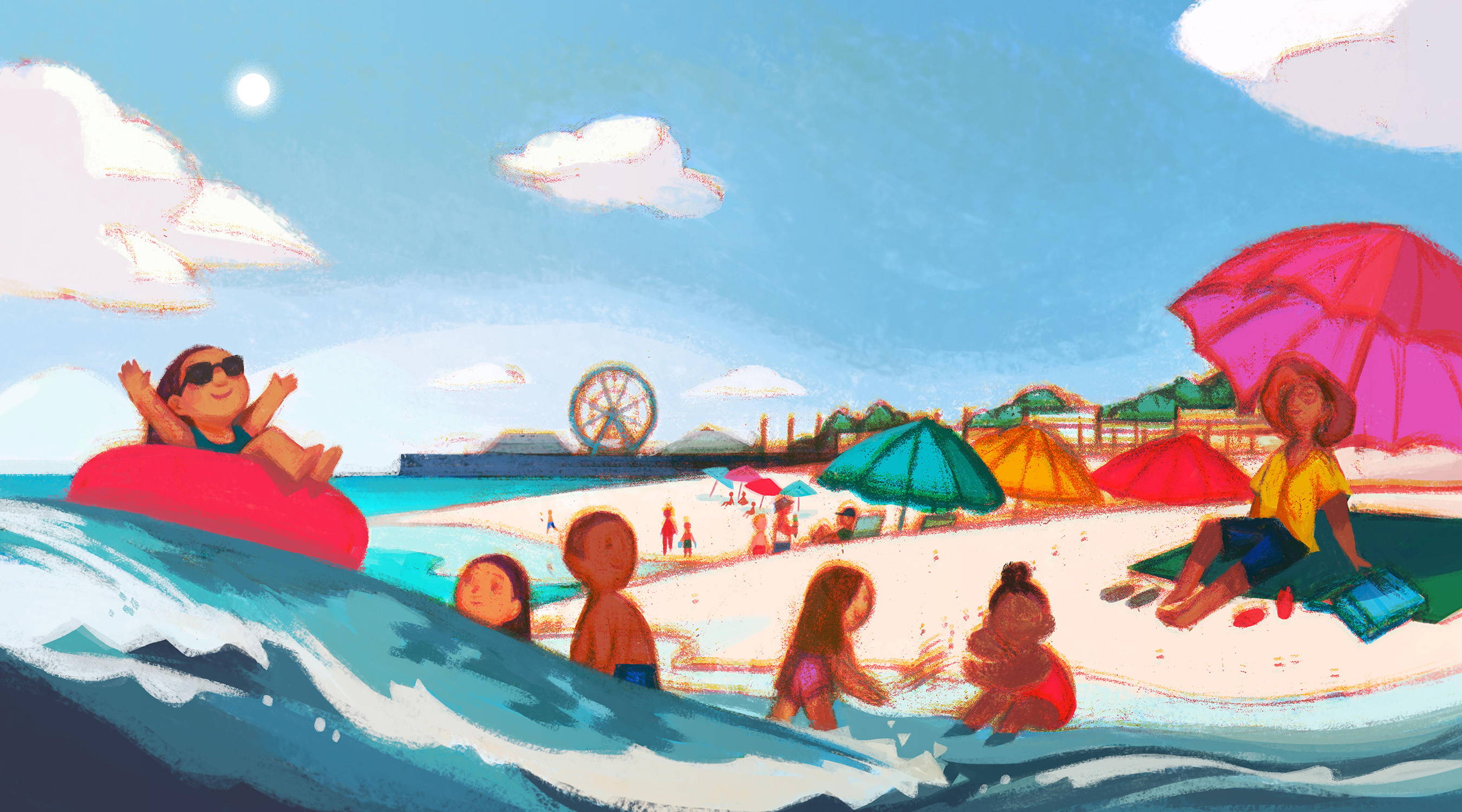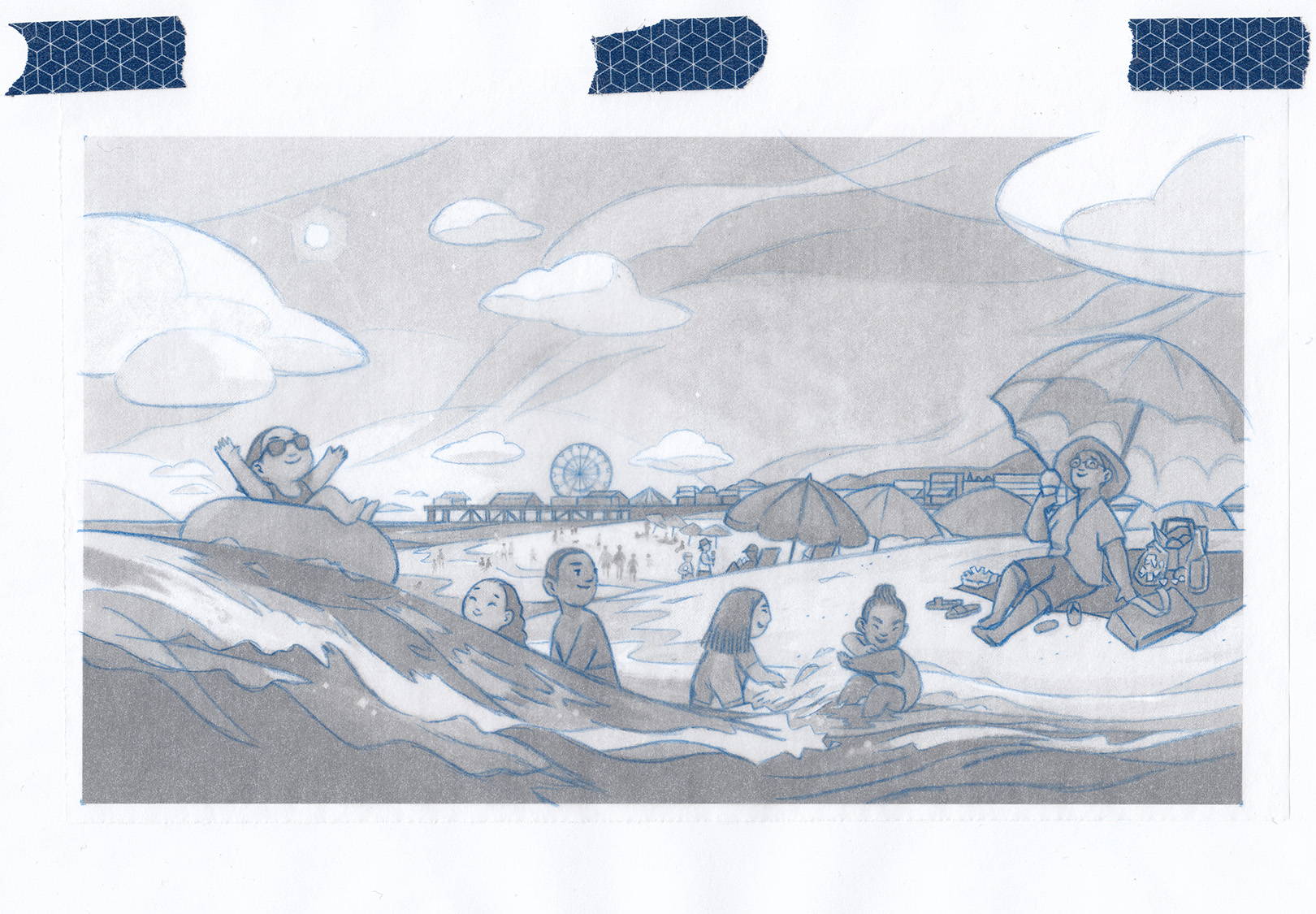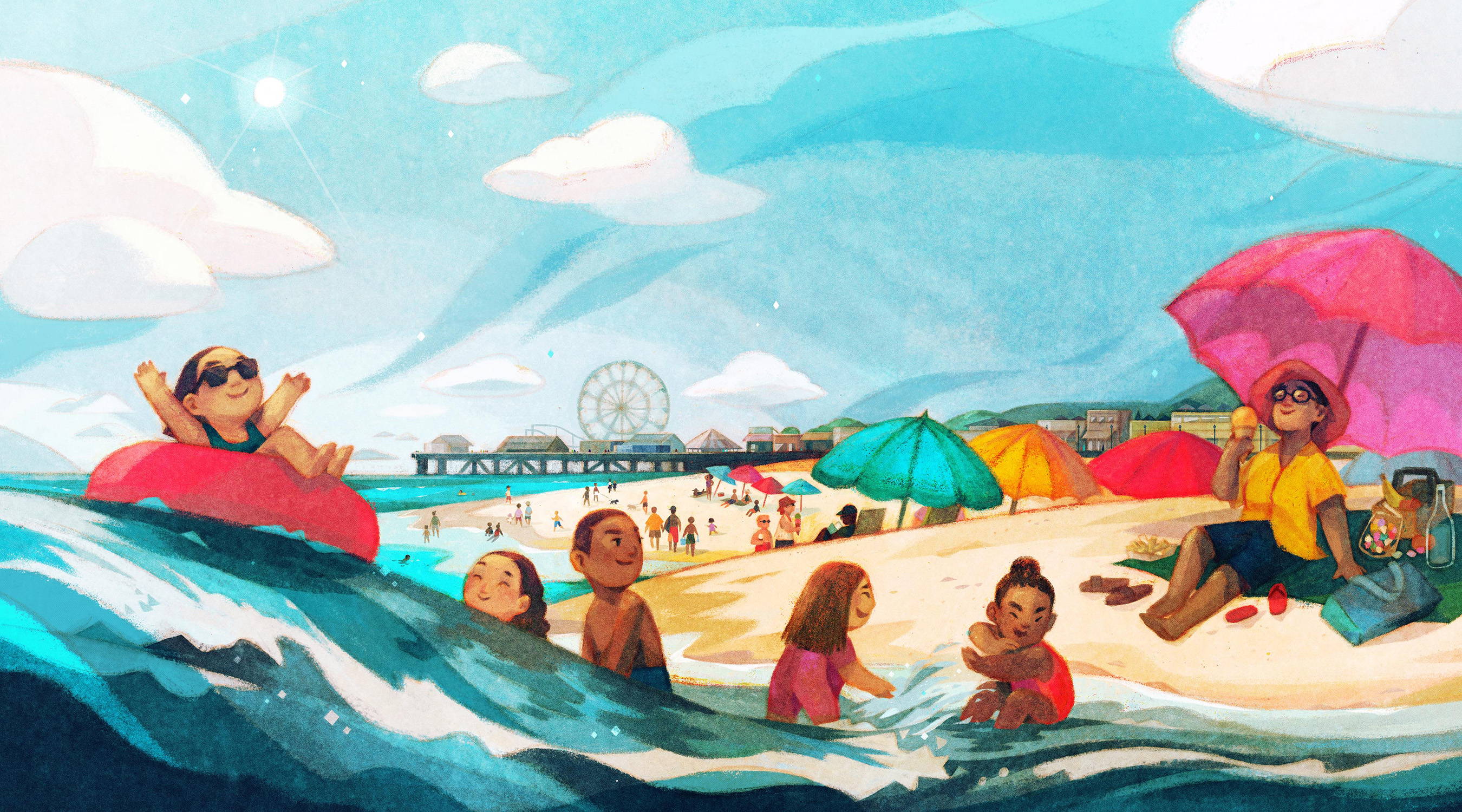 Michelle: I always love hearing about an artist's creative process. Here's something I always wonder about — what everyone's reading. What's a recent picture book that you read recently and loved?
Sarah: A recent favourite is Have You Ever Seen A Flower? by Shawn Harris. I read this book to my 3 year old niece and as I flipped from grey to colour her eyes lit up. In that very moment it flashed me back to being her age again. Every page turn was a moment that was both beautifully quiet and loud.
I love seeing all the inspiring picture books on your book blog, Avery & Augustine! I'm curious to know what books are on your desk at the moment?
Michelle: I usually have a few different stacks of books on my desk at any given time, most having to do with travel and food, because those are long-time interests of mine and sometimes my stories are inspired by a particular food or place. I do love reading about food history and culture quite a bit, too. A few books on my desk at the moment are: American Cake by Ann Byrn, Modern Asian Baking at Home by Kat Lieu, Sweet Spot: An Ice Cream Binge Across America by Amy Ettinger, It Might Be an Apple by Shinsuke Yoshitake and of course, our book, Maribel's Year.
Sarah, do you remember any favorite books you had as a kid?
Sarah: Growing up my mom would read me stories from One-Hundred-and-One Read-Aloud Classics, and I would fall asleep in her arms. I also loved The Rainbow Fish by Marcus Pfister, Something From Nothing by Phoebe Gilman and Abel's Island by William Steig, to name a few.
Michelle: It's been wonderful chatting with you, Sarah. After reading Maribel's Year, I hope readers will understand that although immigrating to a new country and starting a whole new life there does have its difficulties and hardships, it also has moments of joy to be found in new discoveries and new connections forged with kindred spirits.
Sarah: Beautiful. Many kind thanks, Michelle!
---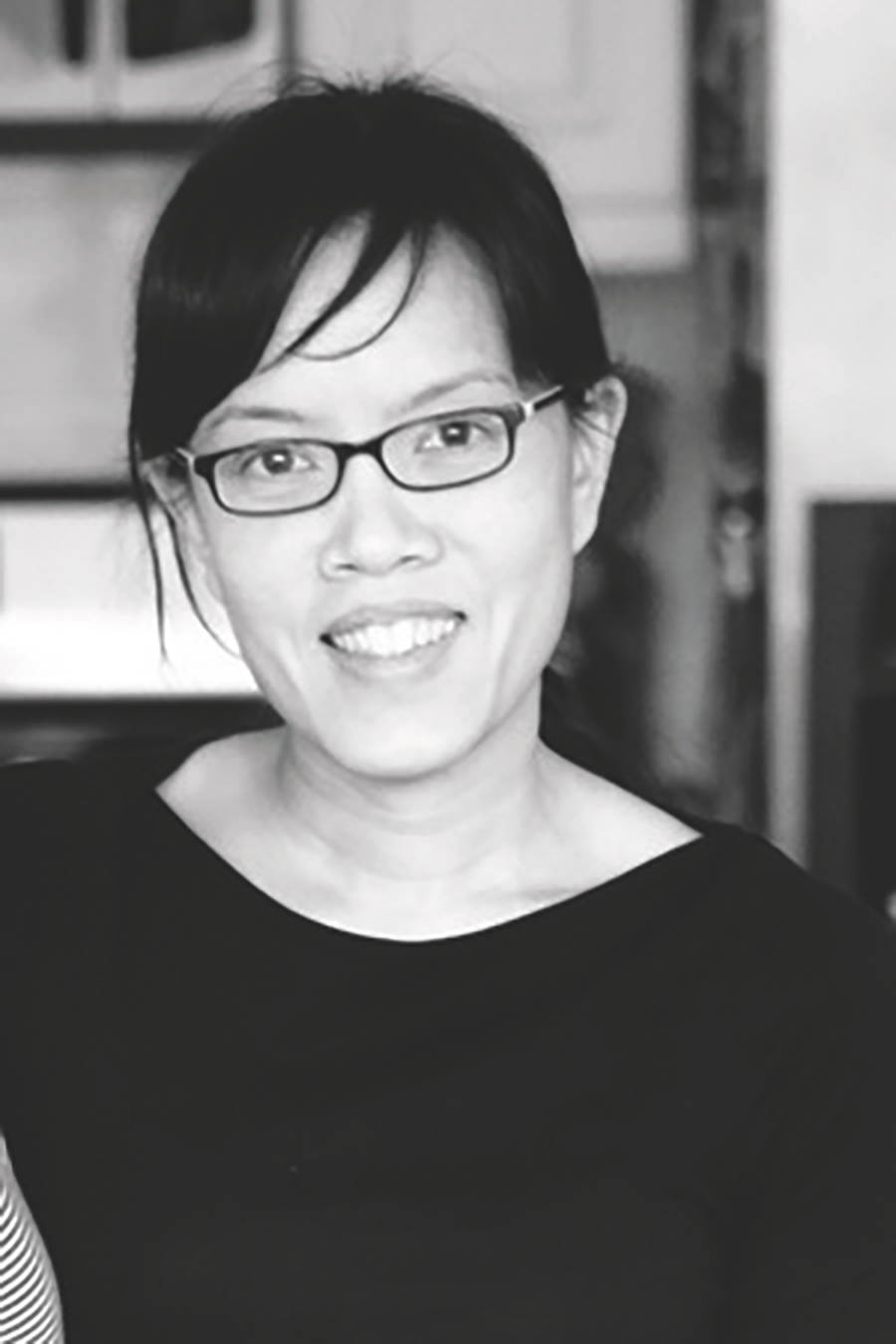 Michelle Sterling is an author, photographer, and speech-language pathologist. Her first picture book, When Lola Visits, was illustrated by Aaron Asis. It received four starred reviews and was named a Kirkus Best Book of the Year and an ALSC Notable Children's Book of the Year. Michelle lives with her family in Southern California. You can find her online at www.averyandaugustine.com.
---
Sarah Gonzales is a Filipino illustrator who was born in Saudi Arabia, raised in Canada, and now lives in Montreal, Quebec. Since graduating from the Alberta College of Art and Design, she has worked in games, editorial, and book illustration. Maribel's Year is her first picture book and is inspired by her childhood memories.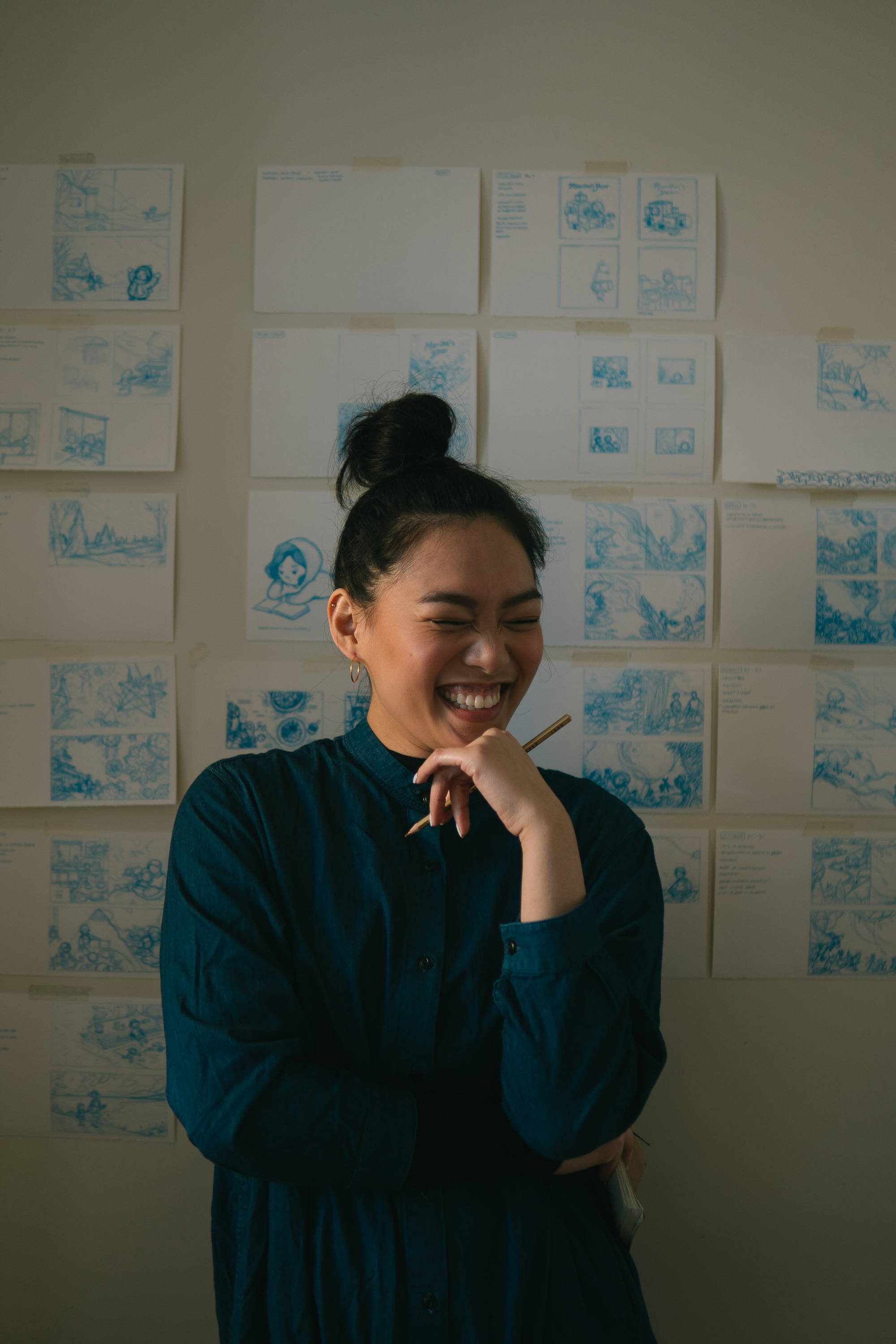 ---
New country, new school, new friends.
A lot can happen in a single year. But one thing's for certain: Maribel won't forget her Papa, even when he's eight-thousand miles away in the Philippines.
After all, Papa is all around. He is the memory of feeding koi fish in their pond every morning. He is the constellation map as Maribel dreams of showing him her new world. He is the packages and letters sent back and forth.
He is everywhere except the place he's wanted the most. But the bond between Maribel and Papa transcends oceans. So as the snow melts and turns to rain, as flowers blossom and welcome sun-kissed days, and as the leaves start to change and snow begins to fall once more, can Maribel wait just a little bit longer?
Praise for Maribel's Year
"A heartfelt, beautiful tale of finding home."
  — Kirkus Reviews (starred review)
"Digitally colored pencil on paper art from Gonzales portrays in painterly textures and lush borders the family's varied experiences, while Sterling supplies tender exchanges and memories. The result is a richly laid seasonal feast that melds languages and traditions."
  — Publishers Weekly
---