Behind The Book: Imogen, Obviously by Becky Albertalli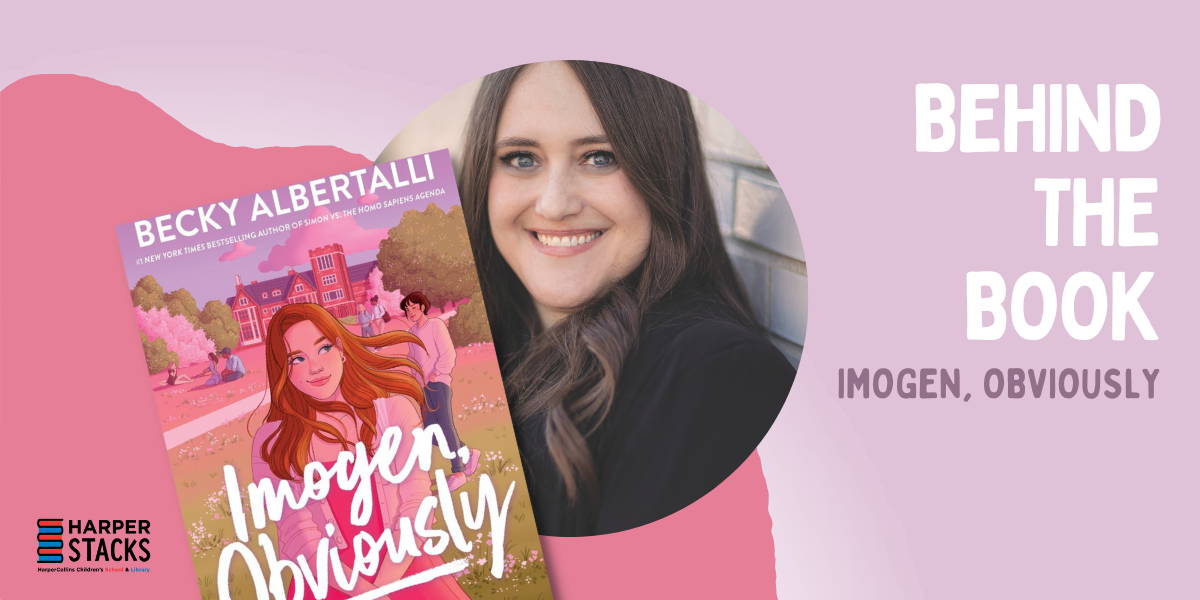 With humor and insight, #1 New York Times bestseller Becky Albertalli explores the nuances of sexuality, identity, and friendship in this timely new novel.
Imogen Scott may be hopelessly heterosexual, but she's got the World's Greatest Ally title locked down.
She's never missed a Pride Alliance meeting. She knows more about queer media discourse than her very queer little sister. She even has two queer best friends. There's Gretchen, a fellow high school senior, who helps keep Imogen's biases in check. And then there's Lili—newly out and newly thriving with a cool new squad of queer college friends.
Imogen's thrilled for Lili. Any ally would be. And now that she's finally visiting Lili on campus, she's bringing her ally A game. Any support Lili needs, Imogen's all in.
Even if that means bending the truth, just a little.
Like when Lili drops a tiny queer bombshell: she's told all her college friends that Imogen and Lili used to date. And none of them know that Imogen is a raging hetero—not even Lili's best friend, Tessa.
Of course, the more time Imogen spends with chaotic, freckle-faced Tessa, the more she starts to wonder if her truth was ever all that straight to begin with. . .
"A masterpiece that will be cherished by anyone who has felt they might not belong." 
— Booklist (starred review)
Dear Reader,

As far as I know, coming out isn't something that straight kids generally worry about.

I was a thirty-year-old "straight" woman when I wrote that. Denial, for me, was a game of dot to dot with no lines. Years and years of moments, each completely disconnected from the last. A girl from after-school dance. One from gym class. Summer camp. College. A tiny pull. A daydream. Never a crush, though. Always just a random anomaly. One big pile of anomalies.

Because I was straight. Obviously. I was an ally. Me, with my stack of Indigo Girls CDs and an encyclopedic knowledge of Rent. I watched gay movies and wrote gay fanfiction. Once, I did an independent study project on queer anime characters. I spent my twenties volunteering with queer kids. My doctoral dissertation was about queer affirming therapy. And then I wrote a book. . .
Becky Albertalli is the #1 New York Times bestselling author of several novels, including William C. Morris Award winner and National Book Award longlist title Simon vs. the Homo Sapiens Agenda (now a major motion picture, Love, Simon); The Upside of Unrequited; Leah on the Offbeat; Love, Creekwood; What If It's Us and Here's to Us (cowritten with Adam Silvera); Yes No Maybe So (cowritten with Aisha Saeed); and Kate in Waiting. Becky lives with her family in Atlanta, and she's still not tired of Oreos. You can visit her online at beckyalbertalli.com.
---
Praise for Imogen, Obviously
"Insightful prose teems with compassionate interrogations of the harms of compulsory heterosexuality and societally prescribed narratives. Via Imogen's wryly funny first-person narration, Albertalli crafts a striking portrait of one teenager's experience navigating sexual fluidity and the sometimes overwhelming fear of reinventing oneself."
  — Publishers Weekly (starred review)
"Albertalli lays out the complicated and beautiful layers that come with accepting personal change and having the courage to take an honest look at oneself. A masterpiece that will be cherished by anyone who has felt they might not belong."
  — Booklist (starred review)
"Imogen's journey feels authentic and sincere, and readers will find it difficult not to fall for her….Fresh, endearing, and heartfelt."
  — Kirkus Reviews (starred review)
"The plot of this novel is well-paced and entertaining... secondary characters are fleshed out, fully formed individuals with diverse queer and racial identities, and the relationships are full of humor and compassion. Imogen is a complex character with a distinct voice, and her story of grappling with her identity during this transitional period of life will resonate. An excellent addition to collections for teens."
  — School Library Journal (starred review)
---