Read on to hear about some amazing new books for children and teens hitting shelves on May 23!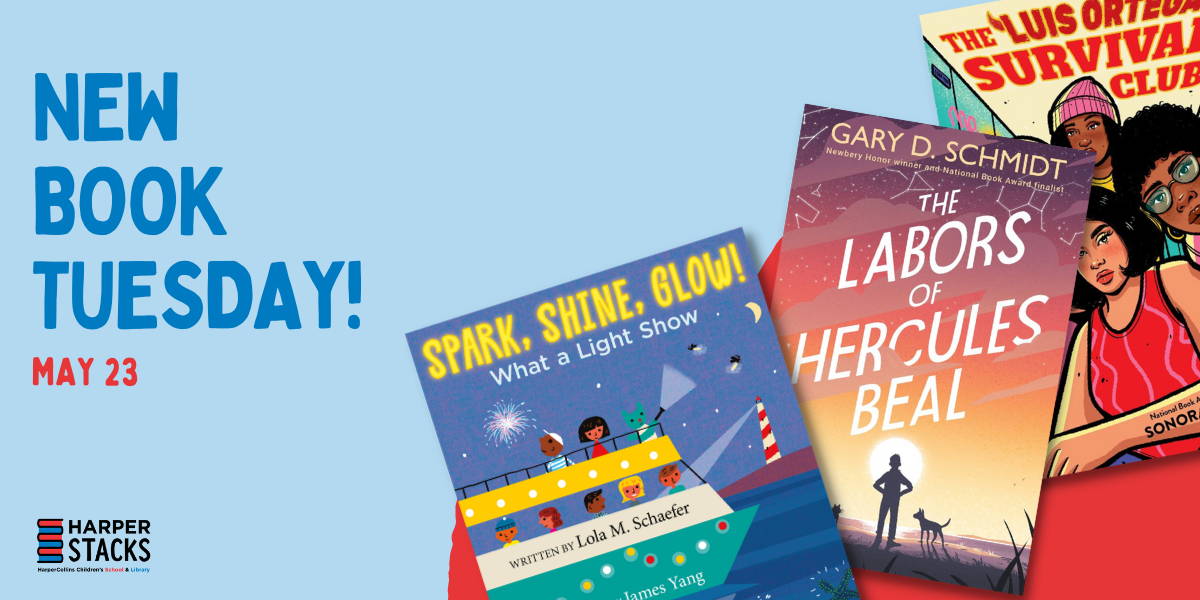 ---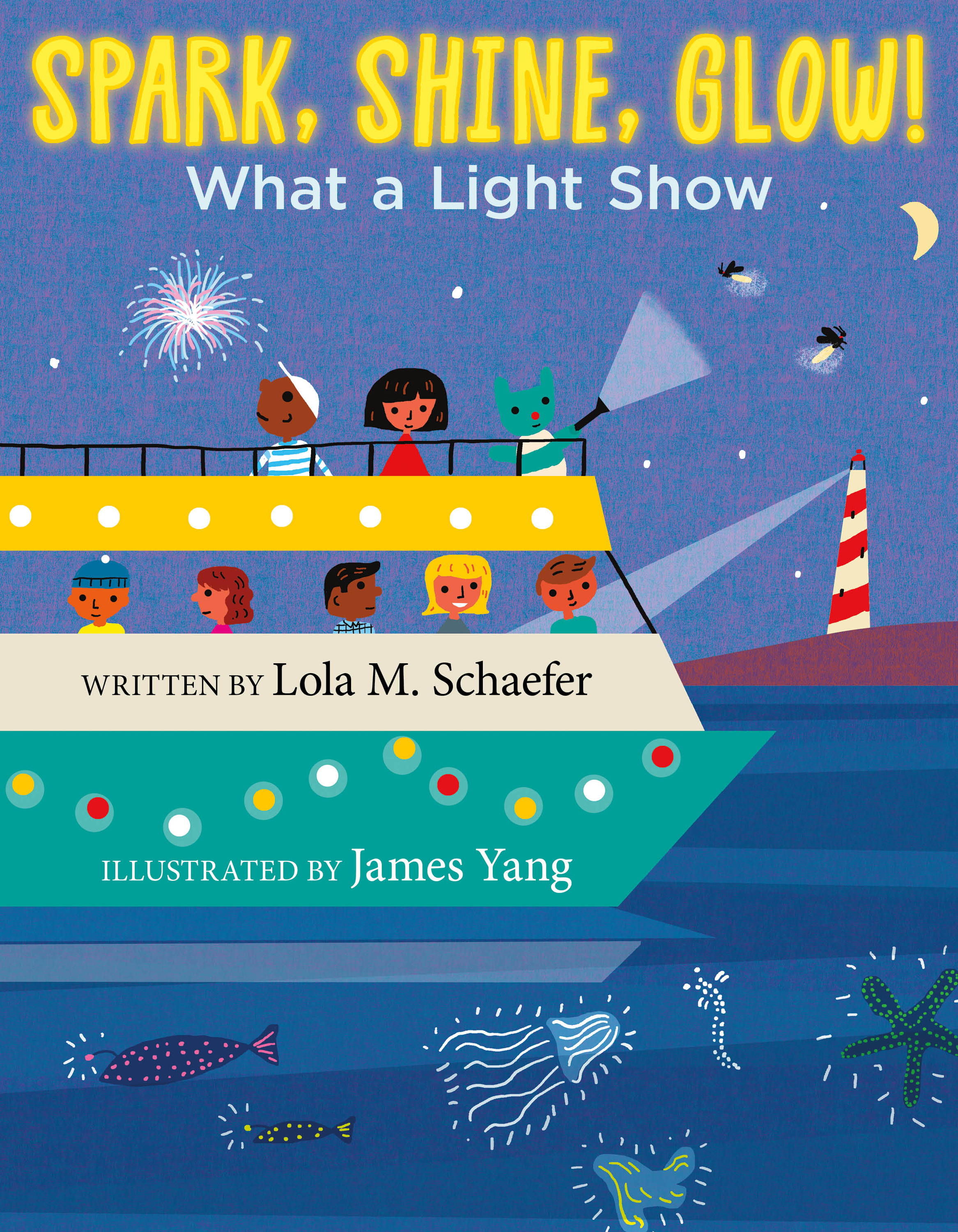 Light is everywhere: from the shining sun to a bright light bulb to a glowing firefly. Light from a flashlight helps you see in the dark, and light from the sun makes plants grow. And did you know that light makes X-rays possible, and also keeps cars, trucks, trains, ships, and planes moving safely? It even allows us to see deep into space! Where would we be without light?
From acclaimed author Lola M. Schaefer and award-winning illustrator James Yang, Spark, Shine, Glow! features a fact-filled, lively text full of rhythm and repetition, as well as engaging and informative illustrations illuminating key STEM concepts. A companion to their Lift, Mix, Fling!: Machines Can Do Anything, Spark, Shine, Glow! is for curious children, young scientists, classrooms, and family story-times.
---
Digger and the other big trucks work all day, smashing and building and transforming their jobsite.
But when a caterpillar weaves its cocoon onto Digger's bucket, he is forced to stop and be still.
In the stillness, Digger begins to notice the world beyond his worksite. And when the butterfly finally emerges, it's clear that Digger and his friends have also been changed forever.
The story includes an accessible guide to metamorphosis for young readers.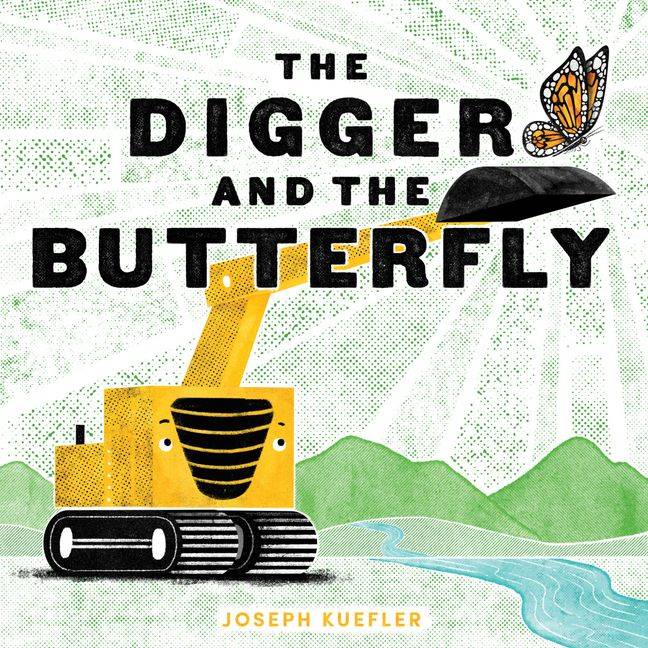 ---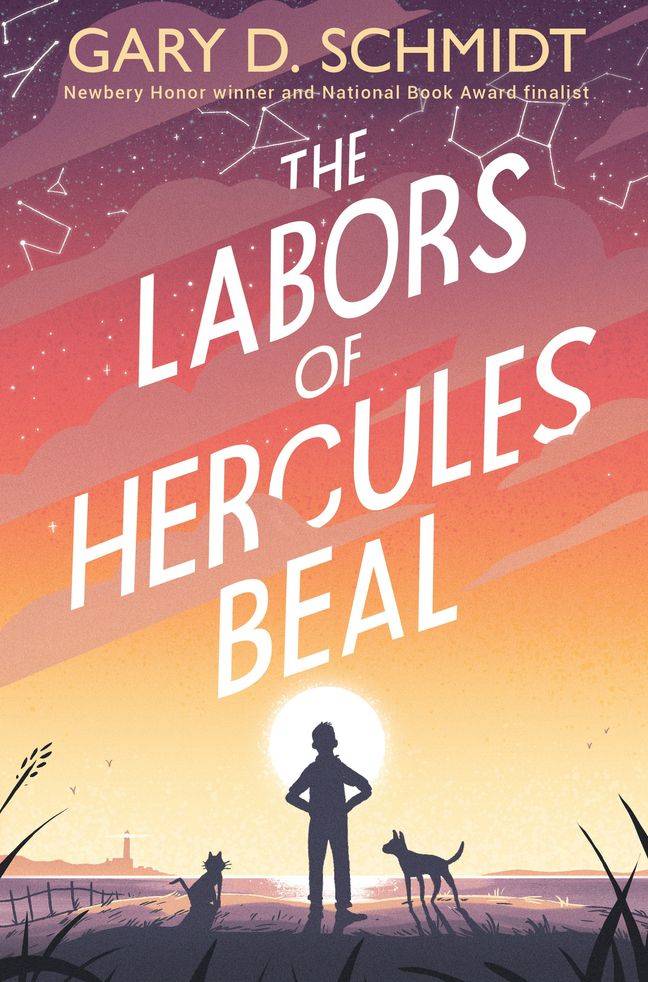 Herc Beal knows who he's named after—a mythical hero—but he's no superhero. He's the smallest kid in his class. So when his homeroom teacher at his new middle school gives him the assignment of duplicating the mythical Hercules's amazing feats in real life, he's skeptical. After all, there are no Nemean Lions on Cape Cod—and not a single Hydra in sight.
Missing his parents terribly and wishing his older brother wasn't working all the time, Herc figures out how to take his first steps along the road that the great Hercules himself once walked. Soon, new friends, human and animal, are helping him. And though his mythical role model performed his twelve labors by himself, Herc begins to see that he may not have to go it alone.
---
Edward feels ready to move in with his dad's girlfriend and her son, Nathan. He might miss having his dad all to himself, but even if things in their new home are a little awkward, living with Nathan isn't so bad. And Nathan is glad to have found a new guardian for Dew, the young water monster who has been Nathan's responsibility for two years. Now that Nathan is starting to lose his childhood connection to the Holy Beings, Edward will be the one to take over as Dew's next guardian.
But Edward has a lot to learn about taking care of a water monster. And fast. Because Dew's big sister, the powerful Yitoo Bii'aanii, is coming up to Fourth World to instruct Dew after recovering in the Third World for one hundred and sixty years. She suspects a monstrous and enormous Enemy from the Hero Twins stories has returned and is stealing water from all of the Navajo Nation.
In their search for the Modern Enemy, Nathan, Edward, Dew, and Yitoo must confront their past and their inner selves if they are to save the Fourth World from a devastating disaster.
A riveting, emotionally affecting adventure!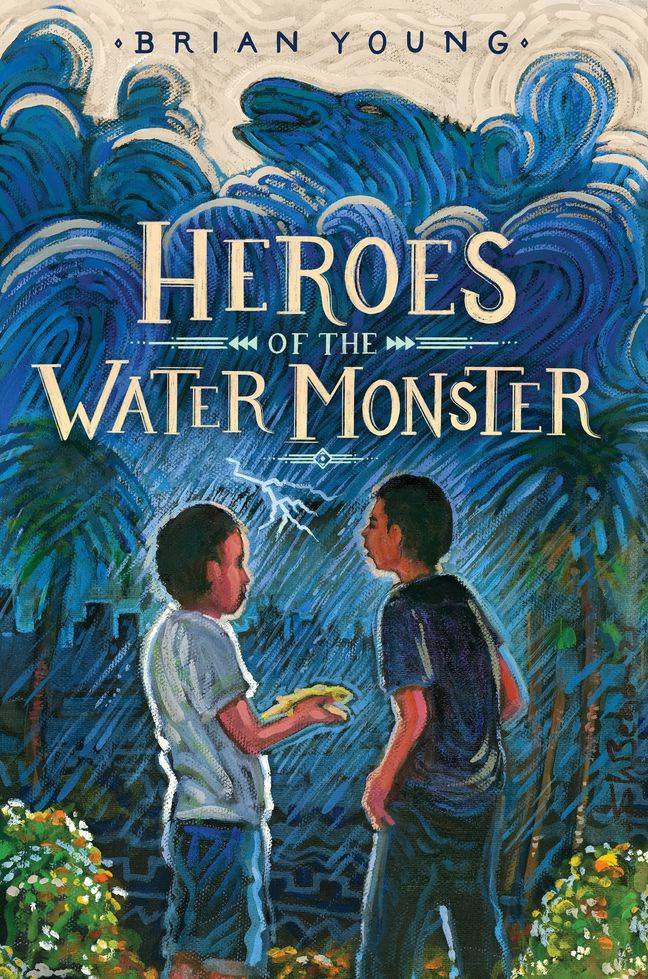 ---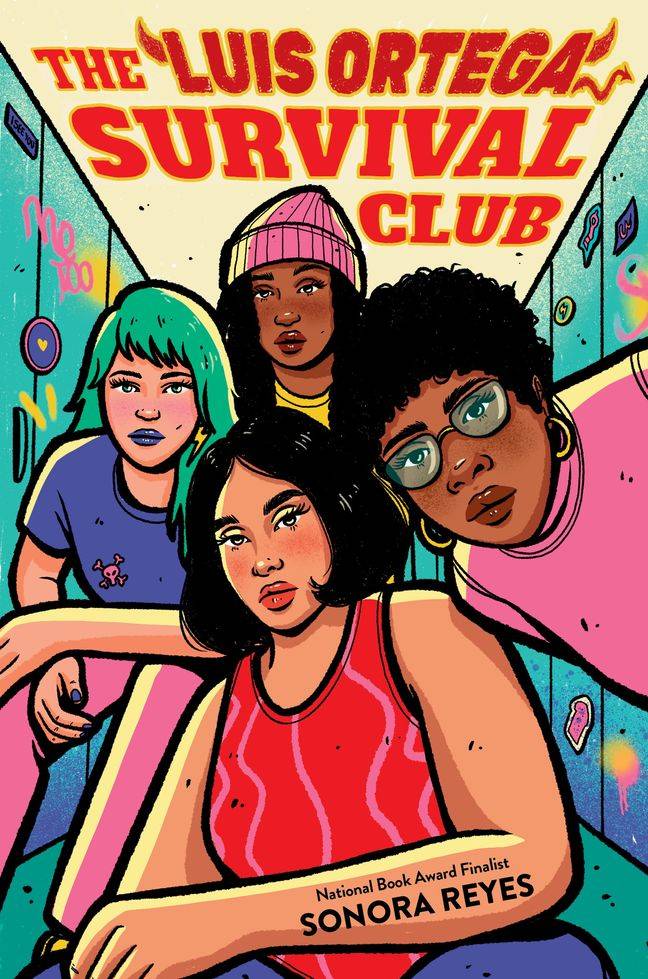 Ariana Ruiz wants to be noticed. But as an autistic girl who never talks, she goes largely ignored by her peers—despite her bold fashion choices. So when cute, popular Luis starts to pay attention to her, Ari finally feels seen.
Luis's attention soon turns to something more, and they have sex at a party—while Ari didn't say no, she definitely didn't say yes. Before she has a chance to process what happened and decide if she even has the right to be mad at Luis, the rumor mill begins churning—thanks, she's sure, to Luis's ex-girlfriend, Shawni. Boys at school now see Ari as an easy target, someone who won't say no.
Then Ari finds a mysterious note in her locker that eventually leads her to a group of students determined to expose Luis for the predator he is. To her surprise, she finds genuine friendship among the group, including her growing feelings for the very last girl she expected to fall for. But in order to take Luis down, she'll have to come to terms with the truth of what he did to her that night—and risk everything to see justice done.
---
Femme, gay teen podcaster Riley Weaver has made it to junior year, which means he can finally apply for membership into the Gaybutante Society, the LGBTQ+ organization that has launched dozens of queer teens' careers in pop culture, arts, and activism. The process to get into the society is a marathon of charity events, parties, and general gay chaos, culminating in the annual Gaybutante Ball. The one requirement for the ball? A date.
Then Riley overhears superstar athlete, Skylar, say that gay guys just aren't interested in femme guys or else they wouldn't be gay. Riley confronts Skylar and makes a bet to prove him wrong: Riley must find a masc date by the time of the Ball, or he'll drop out of the Society entirely. Riley decides to document the trials and tribulations of dating while femme in a brand-new podcast. Can Riley find a fella to fall for in time? Or will this be one massive—and publicly broadcast—femme failure?
This new novel from Jason June explores how labels can limit and liberate us and shows just what can happen when you bet on yourself.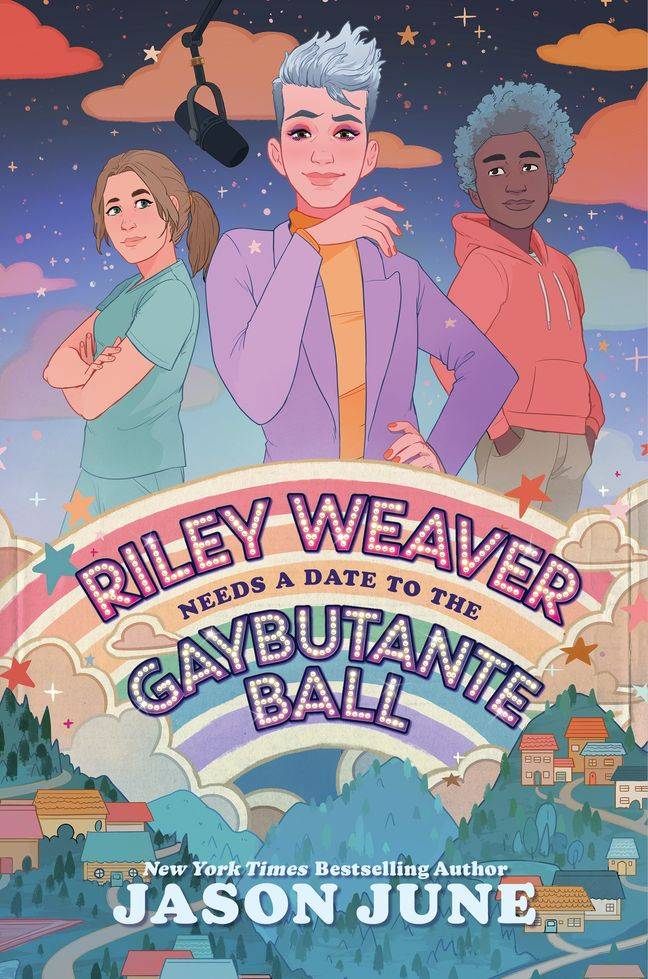 ---
---