Picture This: Home and Community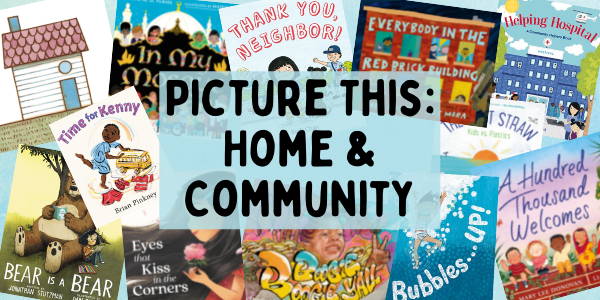 From the moment children are born, their home, family, and community become their world. Children's earliest feelings, impressions, experiences, and dreams come from these interactions, and set the stage for how they will engage with the broader world around them. As educators, it is our joy and responsibility to connect children with books that help them both understand and celebrate their place in the world. These picture books reflect the simple joys of being part of a family and a community and provide an excellent springboard for discussion.
---
We've created a free classroom kit complete with downloadable posters, discussion questions and activities, and curriculum tips for leading your own unit on Home and Community. Download now!
---
Bear Is a Bear
written by Jonathan Stutzman
illustrated by Dan Santat
on sale: September 14, 2021
A gorgeous, classic gift book about the enduring love between a little girl and her childhood friend, Bear, from popular author Jonathan Stutzman and Caldecott Medal–winning and #1 New York Times bestselling illustrator Dan Santat.
---
---
Everybody in the Red Brick Building
written by Anne Wynter
illustrated by Oge Mora
on sale October 12, 2021
A fresh, urban take on bedtime stories in the spirit of The House That Jack Built and Chicka Chicka Boom Boom, from debut author Anne Wynter and Caldecott Honoree Oge Mora.
---
---
---
A House
by Kevin Henkes
on sale September 28, 2021
Caldecott Medal–winner and #1 New York Times–bestselling author Kevin Henkes explores what it means to be at home in this stunning picture book. Brimming with interactive call-and-response questions, A House is a timeless and irresistible must-have for both very young children and emergent readers—as well as the entire family.
---
---
A Hundred Thousand Welcomes
written by Mary Lee Donovan
illustrated by Lian Cho
on sale October 12, 2021
Welcome, come in! You are invited to travel to homes around the world in this beautifully illustrated picture book about hospitality and acceptance, which features the word "welcome" from more than fourteen languages. Fans of Here We Are and The Wonderful Things You Will Be will enjoy this timeless story about family, friendship, empathy, and welcoming others.
---
---
Thank You, Neighbor!
by Ruth Chan
on sale September 28, 2021
Celebrate all the people, places, and things that make our neighborhoods special!
---
---
Boogie Boogie, Y'all
by C.G. Esperanza
on sale August 10, 2021
Author-illustrator C. G. Esperanza delivers a celebratory ode to graffiti and the Boogie Down Bronx through an infectious read-aloud beat and colorful illustrations that leap right off the page! Perfect for fans ofCrown: An Ode to the Fresh Cut and Keith Haring.
---
---
---
Time for Kenny
by Brian Pinkney
on sale January 12, 2021
Two-time Caldecott Honor artist and Coretta Scott King Medalist Brian Pinkney's Time for Kenny is simple, direct, and pitch-perfect for emerging readers. This vibrant, family-oriented picture book is full of boundless energy, action, and unlimited love. A timeless choice for fans of Laura Vaccaro Seeger, Christian Robinson, and Oge Mora.
---
---
---
In My Mosque
written by M.O. Yuksel
illustrated by Hatem Aly
on sale March 23, 2021
Step in and discover all the rituals and wonder of the mosque in this lyrical debut picture book from M. O. Yuksel, with gorgeous artwork from New York Times bestselling illustrator Hatem Aly. A great conversation starter in the home or classroom, this book is perfect for fans of All Are Welcome and The Proudest Blue.
---
---
---
---
Paletero Man
written by Lucky Diaz
illustrated by Micah Player
on sale June 1, 2021
A vibrant picture book celebrating the strength of community and the tastes of summer from Latin Grammy-winning musician Lucky Diaz and celebrated artist Micah Player.
---
---
---
Helping Hospital: A Community Helpers Book
by Lindsay Ward
on sale October 19, 2021
Richard Scarry's Busy, Busy World meets Lisa Brown's The Airport Book with a medical spin in this interactive Community Helpers book that introduces children to all the workers, units, patients, technology, and more that exist within a hospital.
---
---
Eyes That Kiss in the Corners
written by Joanna Ho
illustrated by Dung Ho
on sale January 5, 2021
This lyrical, stunning picture book tells a story about learning to love and celebrate your Asian-shaped eyes, in the spirit of Hair Love by Matthew A. Cherry, and is a celebration of diversity.
---
---
---
Bubbles… UP!
written by Jacqueline Davies
illustrated by Sonia Sánchez
on sale May 4, 2021
An everyday visit to the pool transforms into an unforgettable celebration of the water in this remarkable picture book from Jacqueline Davies, the award-winning author of children's classic The Lemonade War, and Sonia Sánchez, the illustrator of Meg Medina's Evelyn Del Rey Is Moving Away.
---
---
The Last Straw: Kids vs. Plastics
written by Susan Hood
illustrated by Christiane Engel
on sale February 16, 2021
There's no doubt about it—plastic is in almost everything. From our phones and computers to our toys and utensils, plastic is everywhere. But the amount of plastic we throw away is hurting the health of our planet.
---
---
---